07/06/2022
IFAT Munich : LIFE PlasPLUS representatives exhibit at the World's Leading Trade Fair for Water, Sewage, Waste and Raw Materials Management
---
From May 30 to June 3, 2022, IFAT Munich, the World's Leading Trade Fair for Water, Sewage, Waste and Raw Materials Management welcomed 2,984 exhibitors and around 119,000 visitors confirming its position as the most important platform for environmental technologies.
LIFE PLasPLUS coordinator, Comet Traitements, was on site with an Exhibition booth at the Trade Fair Center Messe München. The project was on high display with a demonstration video and information leaflets. The fair was also the opportunity to exhibit first LIFE PlasPLUS results : samples of purified ABS, PS and filled PP obtain from STEP 1 of the project targeting the production of high purity thermoplastics. Researchers form University of Liège joined Comet's team for dissemination purpose.
LIFE PlasPLUS raised great interest from a wide spectrum of participants : recycling companies with improved sorting requirements to avoid downcycling of mixed plastics, value chain actors like OEM active in sorting equipment interested in collaborations, and traders interested in the LIFE PlasPLUS end products.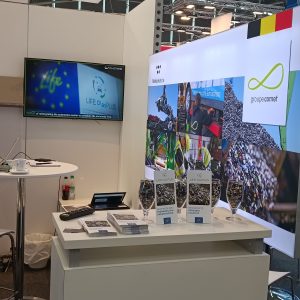 The circular economy took up more space than ever at the IFAT trade show with German Environment Minister Steffi Lemke emphasizing in her opening remarks: "A properly functioning circular economy saves primary resources, reduces dependencies and makes a significant contribution to protecting the climate and biodiversity. My policy aims to help strengthen the circular economy at all stages of its cycle and make environmental protection an appealing business model."
The implementation of a circular business is central to the LIFE PLasPLUS project which aims to simultaneously close the loop for two traditionally siloed material value chains, plastics and minerals, and which aims to improve the recycling of high-quality secondary thermoplastic and critical raw materials coming from mixed Waste Electrical and Electronic Equipment (WEEE) and End-of-Life Vehicles (ELV).
For more information on LIFE PlasPLUS check out the rest of our website at: https://www.lifeplasplus.eu/.
Stay tuned for the next LIFE PlasPLUS events !